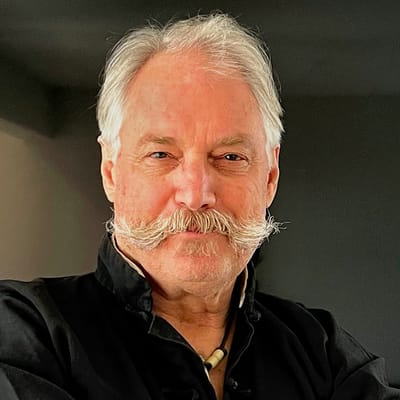 EARLE DE BLONVILLE, FRGS
Explorer, Author, Scholar, Educator, C-Suite Coach, Consultant.
Fellow: Royal Geographical Society, UK
Scientific Collaborator: LAB, University of Catalonia, Spain
Leader:
First Australian Arctic Expedition, East Greenland
Leader:
First British Australian Exploration Voyage, Arctic
Leader:
First Australian Exploration, West Greenland
Leader: First northerly sea kayak crossing of Bass Strait
Co-leader:
First sea kayak circumnavigation of Tasmania
Chief Leader: ANZSES Expedition Granite Mountain
Director: Australian Bicentenary Tall Ships Spectacular
Author:
'SAVAGE COAST - Inside Australia's First Arctic Expedition'
Discover more about Earle's
Leadership Development Programs
.
PROFESSIONAL ADVENTURE CAREER
He is
unique on the Leadership world stage
for the breadth and depth of his practical leadership experience, gained over five decades. He worked as a professional mountain instructor in Scotland, the Lake District, and North Wales. His assignments included training long-term youth recidivists in sub-Arctic conditions, adventure mountain training for young industry leaders, and remote mobile expeditions with international participants, plus adventure curriculum development, adventure centre management and staff technical training.
INTERNATIONAL EXPERIENCE
His extensive field leadership experience includes
adventures in the Himalayas
, Greece, Austria, Italy and the Australian Alps; scientific expeditions in the Kimberley and East Gippsland; and multi-year maritime exploration of largely uncharted Arctic coasts in Greenland.
CORPORATE EDUCATION PROGRAMS
In the corporate sector, he has developed executive leadership education programs, consulted on leadership communications strategies, and coached many C-Suite executives to overcome career-challenging blockages. Earle's highly successful WIN program has transformed leadership culture and language to stimulate rapid growth for clients, and his crisis-based leadership consulting has produced measurable success in a range of industry sector assignments. Earle's forthcoming Leadership Development programs are non-gendered in their approach or assumptions, and will contribute to the development of more women leaders.
ACADEMIC RESEARCH
Earle was elected Fellow of the Royal Geographical Society, London, in 1984, and is a Scientific Collaborator, Universitat Politècnica de Catalunya, Spain. In 2011 he was awarded a Masters by Research (equivalence), by the School of Management, College of Business, RMIT University, Melbourne, for his development of executive education programs. Earle entered a PhD program by invitation (deferred, with ongoing research) to develop a new theory of leadership based on his extensive experience. His research draws on 40 years of work by Harvard research psychologists into higher adult development to theorise the new field of Postformal Leadership. He has presented his early research as an invited plenary speaker at international conferences in Europe:
UE-FISCDI, Bucharest
, and
ESRAD, Freiburg
. He has recently expanded this work into a
Board Briefing
on the future of leadership. Earle was an Adjunct Professor and Professional Fellow at IDEAS, Southern Cross University, NSW, Australia.
MAJOR PROJECT LEADERSHIP
His ground-breaking creation and leadership of
Australia's first Arctic expedition, during 1985-86
, was an extraordinarily complex $2.5 million (2022) project. Its operation stretched more than halfway around the world, involved eight countries, British royalty, prominent Australian and UK business, political and social leaders, scientific organisations, and a range of commercial sponsors.
MAJOR EVENT LEADERSHIP
In 1987 Earle was appointed
Director of the Tall Ships spectacular
where the Prime Minister officially opened Australia's 1988 Bicentenary. It involved management of 500 volunteers, four city councils, plus State and Federal governments and, with more than 1.5 million visitors, was the biggest staged event in Victoria's history.
AUTHOR - 'SAVAGE COAST - Inside Australia's First Arctic Expedition'
His
acclaimed book, Savage Coast,
now in its second fully revised edition, details wide-ranging challenges of field leadership in extreme circumstances. It is held in private collections and libraries worldwide, including the Prince of Wales collection, the Bodleian library in Oxford and the Royal Geographical Society in London. 'Savage Coast' is an inspirational record of leadership through failure, success, and constant challenge, providing insights for leaders who know they must prepare themselves to face futures of escalating uncertainty.
AWARDS
The
1,000th Queen Elizabeth II Silver Jubilee Trust Award

The rarely-awarded Olegas Truchanas Expedition Canoeing Award


LINKS
Leadership Development
Documentary film trailer 'Savage Coast'
.
Acclaimed book
'Savage Coast'
.
Buy 'Savage Coast'
.
Leadership thoughts
.
Leadership videos
.
CONSULTING
E (@) DEBLONVILLE.COM